The Un-Santa Book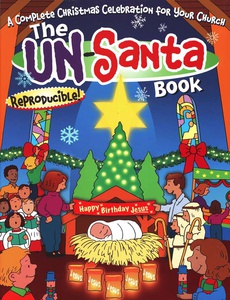 Item Number: 158-411-0620
Manufacturer SKU: 978-1-5841-1062-0
This book is packed with ideas for celebrating the Christmas season in fun ways that really teach about the gift of God's Son.
Regular Price:

$16.99

Your Price:

$14.45

(15% savings)
Reach out to children in your church and community with the good news of Jesus' birth!
This book is packed with ideas for celebrating the Christmas season in fun ways that really teach about the gift of God's Son. From hosting a complete festival to sponsoring a unique holiday event to simply doing crafts with your Sunday school class, this reproducible book will enhance your children's ministry at this special time of year.
Use the Un-Santa Book to:
Direct a large outreach event at your church
Create smaller, specialized events at your church
Present children's sermons
Support your children's ministries with Christmas games, crafts, and snacks
Plan Christmas activities for your family
Publisher: Rose Publishing
ISBN: 978-1-5841-1062-0
Author: Kathy Widenhouse
Illustrator: Chuch Galey & Tom Voss
Pages: 256
Binding: Paperback
Size: 10.875" x 8.375"
Publication Date: July 2005
This item can be returned to ChurchPartner as long as it has not been used, corners are not tattered or curled and is in its original packaging. All returns must be shipped back within 30 days of purchase for a full refund or exchange. All damaged product must be reported within 7 days of receipt. You are responsible for all shipping costs back to our warehouse unless the product was damaged in shipping. Please call us at 800-572-0550 and receive a Return Authorization number to ensure proper credit for the returned item. All credits will be distributed in the same manner as it was originally charged (i.e. credit card credits will be made to the same credit card used for purchase). All credits, with the exception of damaged items, will be for the product cost only, and will not include original shipping charges. Items must be received in resalable condition for credits to be issued. Items damaged during shipping back to our warehouse is the responsibility of the sender and, therefore, you are required to contact the shipping company and settle any disputes. Item returned without a Return Authorization number can be delayed in processing and credits might take 30 days or longer to process.

Rose Publishing, Inc. publishes full-color easy-to-use Bible reference materials, including Bible charts, Bible maps, Bible timelines and biblical reference pamphlets for pastors, Bible study leaders, New Member Classes, and small groups. Rose Publishing specializes in graphics-rich Bible teaching aids. Its mission is to make Bible and Christian topics easy to understand and more interesting.
Church Partner Contact Information