MEGA Sports Camp Preschool Sports Basics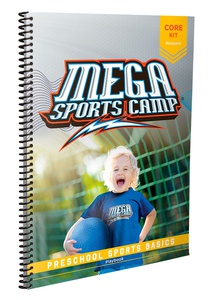 Item Number: 330689
Manufacturer SKU: 330689
Regular Price:

$14.99

Your Price:

$12.75

(15% savings)
Offers easy-to-follow skill introduction, drills, and review games.
Also includes a Director Guide with everything you need to start planning and hosting Preschool Sports Basics, such as schedules, supplies list, and helpful tips to make preparation easy.nyone can lead, and Bible stories.
For ages 4 through first grade.
Publisher: My Healthy Church
ISBN: 978-1-6806-7218-3
Size: 8" x 10-3/4"
Publisher: Salubris Resources
Pages: 96
Format: Spiral
Program: MEGA Sports Camp - Heart of a Champion
All VBS items are completely returnable at the conclusion of your program unless the item has a (NR) after the title. In order to ensure you receive full credit for your returns, you MUST meet the following criteria:
All returns must be received in our warehouse by Friday, August 21, 2020.
All items must be in their original packaging and be available for re-sale in brand new condition. We cannot accept partial packages or items that have been previously opened.
Items that are soiled, marked, or otherwise defaced will not receive credit and will be disposed of at our site. They will not be returned.
You must receive a Return Authorization number from ChurchPartner before returning your items. In the upper right corner of each VBS programs webpage is a button labeled "Return Form". Click that button and follow the instructions. It will automatically provide you with a Return Authorization number upon completion.
You are responsible for paying the return shipping charges and insuring the contents against damage, theft or loss. We are not responsible for damages that might occur in transit. Ship using the carrier of your choice but we strongly recommend that you hold on to the tracking information in case your package does not arrive at our warehouse.

My Healthy Church is a leading supplier of church supplies and resources specializing in children's ministry and pastoral resources. It is the publishing arm of the Assembly of God church.
Church Partner Contact Information