Soft Communion Bread (Case of 40)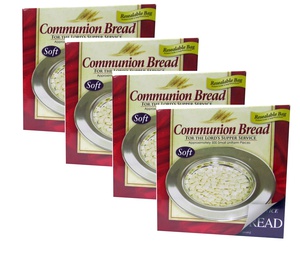 Item Number: 140-700-2873C

Regular Price:

$339.60

Your Price:

$234.00

(31% savings)
This offer is only available on orders placed on our website
A new unleavened communion bread that is soft in texture and crumb-free.
Comes baked--ready to serve.
Packaged in a zip-lock plastic bag that can be re-closed to keep unused bread fresh.
One box contains enough small uniform pieces to serve approximately 500 persons.
Each case includes 40 boxes of bread, thus serving 20,000 people
Because of state and federal health regulations, we cannot accept returns for this item. All sales are final, so please make sure that this item is exactly what you want.

B&H is a division of Lifeway Christian Resources and is based in Nashville, Tennessee.
Church Partner Contact Information