Chair Truck for Folding Chairs, Double Tier - 84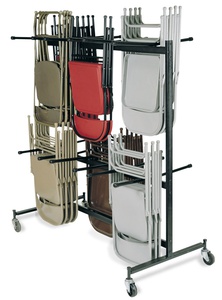 Item Number: 22002
Manufacturer SKU: 84
The 84 is our most popular two-tier folding chair dolly for good reason. This chair caddy holds up to 84 folding chairs on two tiers. The 84 chair cart is designed to fit through 80" high openings. It saves space and is easy to maneuver! Optional extension bar available for taller chairs. MAS Certified Green™
Regular Price:

$542.73

Your Price:

$284.93

(48% savings)
The 84 is our most popular chair dolly for good reason. This chair caddy holds up to 84 folding chairs on two tiers. The 84 is designed to fit through 80" high openings. It saves space and is easy to maneuver!

Storage Capacity: 84 chairs - NPS models 50, 200, 300, 800, 1200, 2200, 2300 series folding chairs
Storage Capacity with Extension: 72 chairs - NPS models 1000, 1100
Storage Capacity with Extension: 60 chairs - NPS models 602, 3200
Fits though a standard 80" doorway fully load.
Heavy duty casters: 4" x 1 1/4" swivel
Easy to assemble with only 12 bolts
Dimensions: 67" L x 70" H x 33 1/4" W
Weights 105 lbs.
Optional Extension bar available for taller chairs (National Public Seating models 1000, 1100, 3200, 602) Note: the chair cart with the extension bar raises the height of the unit to 80" without chairs or 88" with chairs. This means it will no longer fit through a standard doorway
NEW! 10-Year manufacturer's warranty!
MAS Certified Green™ is a nationally recognized registered trademark delineating low VOC emitting prducts in the marketplace so that purchasers and specifiers of those products know that they can earn credits in sustainability programs like LEED, BIFMA's Level, and the California CHP Program.

NPS is America's manufacturer of the largest line of institutional quality folding chairs and tables, stack chairs, stools and dollies as well as a line of conference and training room tables with chairs to match. NPS was incorporated in NJ in 1998 to fill a need in the educational, religious, hospitality, government, commercial and other institutional markets, for furniture produced of only the highest quality grade materials and craftsmanship, with great availability at fair prices. NPS products are covered by a five-year warranty & are currently in use in tens of thousands of facilities nationwide.
Weight: 105 lbs
Width: 33.25"
Height: 70"
Length: 67"
Church Partner Contact Information