72" Contemporary Brass Wall Cross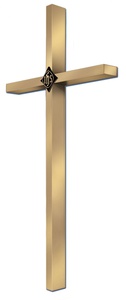 Item Number: RW-2172
Manufacturer SKU: RW 2172
This beautiful, contemporary brass wall cross is available in either a polished or satin finish. Comes standard with an elegant IHS emblem (also available without the IHS upon request).
List Price:

$2,537.00

Your Price:

$2,156.95

(15% savings)
Cross dimensions are: 72" high x 1-1/2" wide x 3" deep
Crossarm length is 37"
Weighs 24 lbs.
Only available in satin finish
Mounting options:
Chain - Five-feet of brasstone chain is upplied with each cross unless wall bracket or keyhole is specified which may be purchased separately. Additional chain may be ordered at $5.00/foot.
Wall Bracket - For hanging crosses on sanctuary walls. Sturdy, strong wall bracket allows mounting cross 6" to 8" from wall. (Item # RW-2020)
Keyhole - Traditional crosses may be ordered with keyhole for surface mounting. This sized cross should have two keyholes for secure mounting. (Item # RW-KEYHOLE)
Because of the size of this cross, it must be shipped by Motor Freight and not by UPS.
Weight: 24 lbs.
Height: 72"
Finish: Brass
UPC: 659830602238
This item can be returned to ChurchPartner as long as it meets the following guidelines:
It has not been used and is in its original packaging.
A 20% manufacturers restocking fee will be assessed on this item (sorry, but that is their charge and not ours)
All returns must be shipped back within 30 days of original purchase
A return authorization number must be included with all returns
You are responsible for all shipping costs back to our warehouse unless the product was damaged in shipping.
Please call us at
800-572-0550
to receive a Return Authorization number. This number is important to ensure proper credit for the returned item.
All credits will be distributed in the same manner that they were originally charged (i.e., credit card credits will be made to the same credit card used for purchase). All credits, with the exception of damaged items, will be for the product cost only less the restocking fee, and will not include original shipping charges.
Items damaged during shipping back to our warehouse are the responsibility of the sender and, therefore, you are required to contact the shipping company and settle any disputes.
Artistic will repair free of charge or replace any item returned within two years (five years for Brasstone and Silvertone Communion Ware and Offering Plates) from the date of purchase provided the defect in the merchandise is the result of faulty workmanship or material. We cannot be responsible for damage due to improper care, maintenance or shipping.

Located in the heart of America, Artistic has been making quality church ware for over half a century.
Church Partner Contact Information