Our office and warehouse will be closed on Monday, May 25 so our staff can be with family and friends on this Memorial Day. We will resume normal operations on Tuesday, May 26. Have a safe and enjoyable weekend.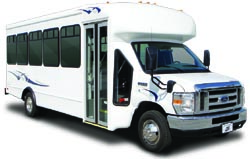 Considering purchase of a bus or van in the near future?
Carpenter Bus Sales specializes in serving schools, churches, hotels, resorts, fitness facilities, senior care, day care, and shuttle services with the right vehicle at the right price.
Carpenter Bus Sales was founded in 1953 and has provided products and services that are second-to-none in the bus industry. Their dedicated sales staff and highly trained service department are there to ensure that the process of buying, renting, or repairing your bus is simple and worry free.
By working through ChurchPartner, you can be assured that Carpenter Bus has been qualified as an exemplary organization and is above reproach when dealing with the Christian community. Carpenter Bus understands the financial challenges facing churches and works to find the right transportation product at the right price that meets your specific need.
Whether a 15 passenger van, or a full size bus, Carpenter Bus has a product for your organization.
Carpenter Bus Sales takes you and your organization through a careful evaluation process that includes the following steps:
Finding the Right Representative - To ensure that you are given as much personal attention as possible when looking to purchase a bus, they assign a dedicated Sales Associates to a specific region so that they are able to focus primarily on customers in that region. Here, you'll be able to find the Sales Associate responsible for your state.
Manufacturer Information - Carpenter Bus represents a number of different high quality bus manufacturers in order to fit a wide variety of transportation needs. Here, you can research each manufacturer and the models that they produce to get a good idea of what's available to you in the bus market.
Test Before You Buy Program - Carpenter Bus has discovered that sometimes it is necessary for customers to check out a new or used bus before making a commitment to purchase it. Therefore, they have developed a program that will allow you to use the bus or van for a thirty (30) day period at a nominal charge. Here, you can find out how to enroll in our "Test" program.
Leasing and Financing - Carpenter Bus Sales knows that a successful bus-purchasing experience may require financing -- and they want to insure that you get financing that works for you! That's why they have partnered with TCF Equipment Finance to offer competitive, fixed rates on the financing of your bus.
10 Things to Consider -Click here for great information on ten key issues to consider and address when selecting transportation for the church and ministry market. Whether you're a first time buyer or you've purchased before, reading this article can be very beneficial to making the right decision.
Click below to complete our simple questionnaire, and a qualified representative of Carpenter Bus Sales will be in contact to start the process - and help you fulfill your need for quality transportation at an excellent price - Thank you