1 Peter: Stand Strong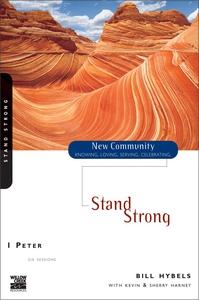 Item Number: 031-022-7739
Manufacturer SKU: 9780310227731
Regular Price:

$9.99

Your Price:

$8.49

(15% savings)
In this volume from the high-impact New Community series for experiencing the transforming power of God's Word in the context of community you have insight into avoiding life's floodwaters by anchoring yourself to the bedrock of Jesus Christ.
6 SESSIONS
The floodwaters of life are rising; the current races faster. You feel yourself slipping. You need a secure foothold . . . and you need it now! We have all experienced the heart-pounding feeling of losing our stability in the storms of life. We want to stand strong as followers of Christ, but the world presses against us with staggering force. Where can we find an unshakable foundation for life? In the book of 1 Peter, you and your small group will find a rock-solid basis for living in a precarious and uncertain world. God offers you hope, love, purpose, service, submission, and victory. You can stand strong against the flood as you anchor yourself to the bedrock of Jesus Christ.

Zondervan is an international Christian communications company with a heart for helping people find and follow Jesus Christ by inspiring them with relevant biblical and spiritual resources. They do this through their bestselling, award-winning, and life-changing products. Zondervan leads the way in Bible and book publishing, and they continue to expand their resource offering. They are working to become an even greater contributor to the international Christian marketplace. Today they offer a wide variety of resources for all ages. Their products include Bibles, books, audio resources, ebooks, videos, CD-ROMs, digital downloads, and inspirational gifts.
Publisher: Zondervan
Author: Bill Hybels
Pages: 96
Format: Softcover
Publication Date: 1999
Church Partner Contact Information