Christian Basics: Perseverance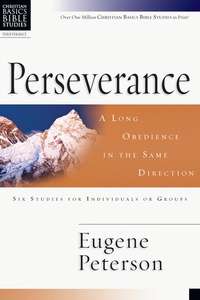 Item Number: 083-082-0108
Manufacturer SKU: 978-0-8308-2010-8
Regular Price:

$9.00

Your Price:

$7.65

(15% savings)
As you grow in hope, patience, repentance and joy, you also grow in your ability to persevere. Six studies, based on Eugene Peterson's classic on Christian commitment, A Long Obedience in the Same Direction, will encourage you to continue in the path Christ has set before you.
When the going gets tough, what does a Christian do?

The world around you is, more often than not, unjust and unmerciful. But God has given you resources to see you through tough times.


Located in Westmont, Illinois, InterVarsity Press has been publishing excellent Christian books for more than 50 years. Our current publishing program is focused on three imprints: 1) IVP Books offers general-interest books in categories like Christian living, discipleship, evangelism, missions, apologetics and cultural critique. 2) IVP Academic offers books designed for research and classroom use in areas such as biblical studies, theology, philosophy, science and psychology. 3) IVP Connect offers study guides, multimedia curriculum and foundational resources for churches and small groups.
Publisher: InterVarsity Press
Author: Eugene Peterson
Pages: 60
Format: Paperback
Publication Date: 1996
Church Partner Contact Information