Christian Basics: Prayer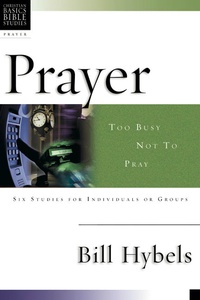 Item Number: 083-082-0043
Manufacturer SKU: 978-0-8308-2004-7
Regular Price:

$9.00

Your Price:

$7.65

(15% savings)
Six studies based on Bill Hybels's Too Busy Not to Pray show you how to slow down, listen to God and find refreshment in his presence.
Do you have trouble finding time to pray?

So much clamors for your attention: work, school, friends, family, church--the list goes on and on. Time for God and time to pray often seem impossible to fit into packed days and nights.


Located in Westmont, Illinois, InterVarsity Press has been publishing excellent Christian books for more than 50 years. Our current publishing program is focused on three imprints: 1) IVP Books offers general-interest books in categories like Christian living, discipleship, evangelism, missions, apologetics and cultural critique. 2) IVP Academic offers books designed for research and classroom use in areas such as biblical studies, theology, philosophy, science and psychology. 3) IVP Connect offers study guides, multimedia curriculum and foundational resources for churches and small groups.
Publisher: InterVarsity Press
Author: Bill Hybels
Pages: 60
Format: Paperback
Publication Date: 1994
Church Partner Contact Information