Scary, Gross & Weird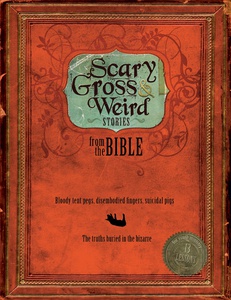 Item Number: 076-443-6987
Manufacturer SKU: 978-0-7644-3698-7
Regular Price:

$19.99

Your Price:

$16.99

(15% savings)
Bloody Tent Pegs, Disembodied Fingers, and Suicidal Pigs...the Truths Buried in the Bizarre
Some of the best stories in the Bible are also some of the most unexpected and unusual. And they're not for the faint of heart. These Bible lessons truly are sick...and totally interesting!
Surprise your teenagers with the "disgusting" truth! Each of the 13 easy-to-use lessons focuses on a relevant topic related to a scary, gross or weird Bible story and includes a challenging "Fear Factor"-like activity (like eating daring treats), a fun game and thought-provoking discussion questions that help teens uncover life application.
These peculiar & profound lessons will grab everyone's attention!
Allow one hour per lesson.

Includes:
13 easy-to-use Bible lessons for teenagers
Great for any time Try one during youth group time, start up a weekly study, or create a Scary, Gross, and Weird retreat.
Provides a creative way to reach teens
Each lesson delivers approximately one-hour of teaching

If your church does it, they've probably got it. It's been said that tool companies don't sell drills; they sell holes. The same goes for Group. They don't just sell books, curriculum, training, Bibles, software, etc. They're in the business of making you even better at what you do in ministry. They want you to feel joy and fulfillment as you connect people with Jesus. That said, Group does offer a wide range of resources and services for just about every area of church ministry: children's ministry, youth ministry, adult small groups, women's ministry, pastoral ministry, and more.
Publisher: Group Publishing
Church Partner Contact Information