FaithWeaver NOW - Middle School - Leader Guide - Summer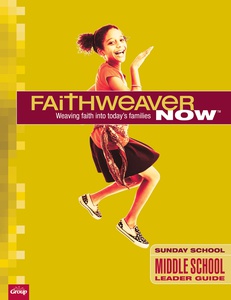 Item Number: 201701-4
Manufacturer SKU: 9781470754327
Middle School Leader Guide equips you to lead this age level. Because choice is so important to this age group, resources include options for learners to select which activity—called "Adventures"—they would like to do as part of their Bible study.
Regular Price:

$12.29

Your Price:

$11.07

(10% savings)
The "Adventures" include activities that meet the needs of different learning styles and interests: drama, writing, music, art, discussion, and more. Directions for these student-led "Adventures" are included in the Student Book.
FaithWeaver NOW Sunday School:
Age-appropriate lessons make it easy for families to talk about faith at home.
DAILY CHALLENGES—give teens a faith that weaves into their lives.
WEAVING FAITH AT HOME—each week, students are encouraged to talk to their parents about what they've learned.
BIBLE BACKGROUNDS—gives leaders a deeper understanding of the Scripture for their own spiritual growth!
JESUS CONNECTION—and life application of the study—to help leaders reflect and pray!
LESSON CHART—makes organizing the study and supplies easy!

If your church does it, they've probably got it. It's been said that tool companies don't sell drills; they sell holes. The same goes for Group. They don't just sell books, curriculum, training, Bibles, software, etc. They're in the business of making you even better at what you do in ministry. They want you to feel joy and fulfillment as you connect people with Jesus. That said, Group does offer a wide range of resources and services for just about every area of church ministry: children's ministry, youth ministry, adult small groups, women's ministry, pastoral ministry, and more.
Publisher: Group Publishing
Church Partner Contact Information