Would Jesus Really Do That?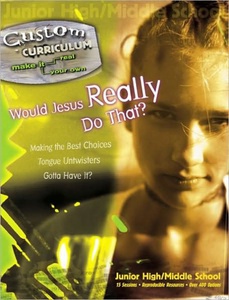 Item Number: 078-144-0874
Manufacturer SKU: 9780781440875
Regular Price:

$19.99

Your Price:

$16.99

(15% savings)

Closeout Price: $3.00

(85% savings)
Custom Curriculum allows you to address the issues that students face in today's world in a way that can be fully customized to be a perfect fit for your group.
Your youth group is like no other-so a cookie-cutter curriculum just won't do. With a single book you have the basics for 15 complete sessions-and you can put it all together in a way that works for you. Each topic has been developed by ministry experts to be teen-relevant and spiritually enriching. Each five-session book also includes a 14-point plan for customizing your program, a selection of ice breakers, thought provokers, reproducible handouts, and an encouraging how-to article from well-known youth ministry experts!

David C. Cook is a nonprofit organization dedicated to publishing and distributing leadership and discipleship resources to help Christians all over the world grow in their faith and pass it on to the next generation. They call this "DiscipleShaping". They were established in 1875 by David Caleb Cook in Chicago, IL. Since that time, they have published numerous bestselling books from The Picture Bible to Crazy Love by Francis Chan, developed over ten lines of Sunday school curriculum, and published many of today's most popular praise and worship songs through their music division, Kingsway.
Our apologies, but this item is non-returnable.
Publisher: David C. Cook
ISBN: 9780781440875
Author: David C. Cook
Pages: 255
Format: Paperback
Weight: 1.4 lbs
Publication Date: March 2004
Church Partner Contact Information