Promises, Promises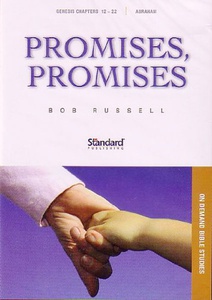 Item Number: 075-941-1712
Manufacturer SKU: 7-07529-41171-2
Regular Price:

$19.99

Your Price:

$17.99

(10% savings)

Closeout Price: $3.00

(85% savings)
A basic verse by verse Bible study of Genesis 12-22.
If you have a DVD player, you can host a Bible study today!
This self-contained, easy to use study requires no prep or special knowledge from you. Just insert the disc and press play!
It contains everything you need:
Six 30-minute lessons. Thorough, but easy for anyone to understand
Discussion questions to get your group talking
Perfect for small groups, Sunday school, adult electives, or personal study
The six sessions are:
Abraham and God - The Essentials of Faith (Genesis 12)
Abraham and Lot - The Test of Riches (Genesis 13, 14)
Abraham and Sarah - The Test of Patience (Genesis 15-17)
Abraham and the Angel of the Lord - The Test of Judgement (Genesis 18, 19)
Abraham and Abimelech - The Test of Fear (Genesis 20, 21)
Abraham and Issac - The Test of Loyalty (Genesis 22)
Our apologies, but this item is non-returnable.

Christian Standard Media provides true-to-the-Bible resources that inspire, educate, and motivate people to a growing relationship with Jesus Christ.
Church Partner Contact Information