NIV Gift and Award Bible - Softcover, Black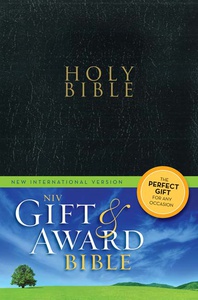 Item Number: 031-043-4467C
Manufacturer SKU: 978-0-3104-3-446-7
When you give the NIV Gift & Award Bible, you're giving the very best there is. For presentations, confirmation, awards, and personal use, this unique Bible offers the highest quality, greatest readability, and most affordable pricing. 12 Bibles per case.
Regular Price:

$95.88

Your Price:

$76.70

(20% savings)
Featuring the complete text of the New International Version (NIV) with helpful study tools like maps and a Bible dictionary, the NIV Gift & Award Bible is an exceptional value and an unforgettable keepsake.
Features include:
• Attractive, readable page layout
• Book introductions
• Life in New Testament times
• List of teachings, ministry, miracles, and parables of Jesus
• Bible dictionary
• Full-color maps
• Presentation page
• Words of Christ in red
• Two-column format
Testimonials: "This NIV Gift & Award Bible is an appropriate and quality gift for many celebratory occasions. I was able to purchase one for each of my students for eighth-grade graduation because it is affordable. There is a very nice presentation page with room for multiple signers." "Because of the great price, I was able to purchase an NIV Gift & Award Bible for each of my students at graduation. There is a nice presentation page with plenty of room for all of the students to sign each other's Bibles and write notes of encouragement for each other as they enter college.""
Publisher: Zondervan
Pages: 736
Publication Date: February 2011
Version: New International Version (NIV)
Type Size: 6.6 point

Zondervan is an international Christian communications company with a heart for helping people find and follow Jesus Christ by inspiring them with relevant biblical and spiritual resources. They do this through their bestselling, award-winning, and life-changing products. Zondervan leads the way in Bible and book publishing, and they continue to expand their resource offering. They are working to become an even greater contributor to the international Christian marketplace. Today they offer a wide variety of resources for all ages. Their products include Bibles, books, audio resources, ebooks, videos, CD-ROMs, digital downloads, and inspirational gifts.
This item can be returned to ChurchPartner as long as it has not been used, corners are not tattered or curled and is in its original packaging. All returns must be shipped back within 30 days of purchase for a full refund or exchange. All damaged product must be reported within 7 days of receipt. You are responsible for all shipping costs back to our warehouse unless the product was damaged in shipping. Please call us at 800-572-0550 and receive a Return Authorization number to ensure proper credit for the returned item. All credits will be distributed in the same manner as it was originally charged (i.e. credit card credits will be made to the same credit card used for purchase). All credits, with the exception of damaged items, will be for the product cost only, and will not include original shipping charges. Items must be received in resalable condition for credits to be issued. Items damaged during shipping back to our warehouse is the responsibility of the sender and, therefore, you are required to contact the shipping company and settle any disputes. Item returned without a Return Authorization number can be delayed in processing and credits might take 30 days or longer to process.
Church Partner Contact Information