ChurchPartner offices and warehouse will be closed on Monday, May 27 to honor our fallen heroes this Memorial Day. All orders will be processed the next day, Tuesday, May 28.
Woerner All Acrylic Sanctuary Collection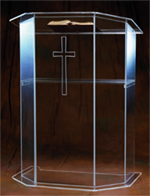 Woerner has mastered the contemporary sanctuary look with their All Acrylic Sanctuary Collection. Each piece is manufactured using the best and clearest acrylic. The 1/2" thick panels fit into grooves for superior construction. All of the acrylic edges are hand-polished.
The collection includes Pulpits, Lecterns, Communion Tables, Altars, Baptismal Fonts, Collection Boxes, Flower Stands and Bible Stands.
All Acrylic Communion Tables
All Acrylic Baptismal Font
All Acrylic Collection Box
All Acrylic Offering Tables
All Acrylic Flower Stands