Woerner 2000 Series Sanctuary Collection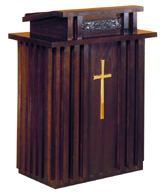 Woerner offers a unique and beautiful Slatted Design with the 2000 Series Sanctuary Collection, These pieces will give a new look to any sanctuary or chapel. Each piece is constructed of selected flat-cut red oak veneer plywood and solid hardwood red oak lumber. You have 16 standard stains to choose from. Then the product is finished with Enduracote III, a specially formulated catalyzed lacquer that resists water and other stains.
The collection includes a Pulpit, Lectern, Communion Tables, Altars, Prie Dieu Kneelers, Celebrant Chair and an Offering Table.