NOTE: Our website is currently experiencing some technical difficulties and images are not being shown. We are working on this and should have it corrected shortly.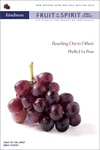 Fruit of the Spirit Series
The eight-volume Fruit of the Spirit Bible Studies series not only helps you discover what the Bible says about the vital traits that the Holy Spirit produces in believers, but also moves you beyond reflection and discussion to application. Designed for use in small groups or personal devotions, the interactive format will help you grow in your ability to reflect the character of Jesus.