Our office and warehouse will be closed on Monday, May 25 so our staff can be with family and friends on this Memorial Day. We will resume normal operations on Tuesday, May 26. Have a safe and enjoyable weekend.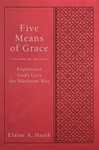 Five Means of Grace: Experience God's Love the Wesleyan Way
John Wesley gave the Methodist movement (and all Christians in general) a discipleship pathway to follow. Wesley began with Three Simple Rules (or "General Rules"), and followed this instruction a year later with the Five Marks of a Methodist (or "Character of a Methodist"). Wesley observed the need for continuous renewal of relationships with God and others, so he established a recurring annual process for God's people to make One Faithful Promise: The Wesleyan Covenant for Renewal. The study by Heath turns to the practices at the center of Wesley's understanding of spiritual growth: the means of grace.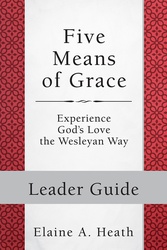 150-183-5551
Regular Price:

$12.99

Your Price:

$10.39

(20% savings)