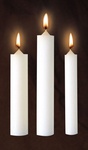 Candles & Accessories

The lighting of candles in church services has a wide variety of spiritual and symbolic meanings. Whether for advent, baptism, confirmation, first communion, weddings, or candlelight services, ChurchPartner offers a wide variety of quality candles, tapers, and votives in styles and sizes appropriate for all sacred occasions.
We also offer oil burning and flameless candles as well as followers, drip protectors, and wax removers to make the most of this beautiful tradition in church services.