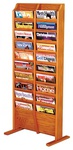 Floor Racks
Look no further for a stylish and durable option for storage and display of magazines, fliers and brochures. These pieces feature solid oak, veneers, and clear acrylic surfaces. Save money on these outstanding products.
---
Ready for Guests this Fall?
All Wooden Mallet Literature Displays are on Sale now through September!
gh December!